Quit Smoking – Electric Cigarette
Have you heard of an Electric Cigarette, also known as an Ecig?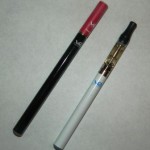 If you really want to quit smoking cigarettes, there is an easy way to get your nicotine, instead of going cold turkey or even using patches.
An Electric Cigarette, uses a rechargeable battery and a cartridge containing nicotine.  The battery heats up the nicotine cartridge and produces a vapor, which is inhaled into your lungs.
This vapor is then exhaled and looks like cigarette smoke.  This vapor has no smell and disappears quickly into the air.
An Electric Cigarette comes in all different shapes, sizes and prices.  The nicotine cartridges come in different strengths of nicotine.  You can get full strength, medium,light and even zero nicotine.
You can also buy E-liquid, which is used to refill your electric cigarette cartridges and use them over and over.  E-liquid is a cheaper way to use an Electronic Cigarette compared to using the cartridges.
E-liquid only costs about a third of what cartridges cost, but there is some upkeep to it.  You have to fill your own cartridges, instead of just pulling one out of a box.  What ever you do, be sure to save you cartridges in case you decide later to refill your own.
Want to watch some videos of vaping with Electronic Cigarettes?  Want to learn more about Ecigs?
Click HERE to learn more about Electronic Cigarettes.
Electric Cigarette Tips & Facts:
If you're really serious about Electric Cigarettes, you will need a car charger.  Batteries will need recharging and you may not be around AC to charge them.  A car charger is fairly inexpensive and is so handy to have.
Also, I would recommend an extra AC charger for your house.  You never know when yours might die on you and you would be in trouble, if you didn't have a way to charge your batteries.  You can also buy a USB ecig that plugs into your computer and requires no batteries.

There are manual and automatic electric cigarettes.  I prefer the automatic, because all you have to do is just drag on it like a regular cigarette.  If using a manual one, you have to hold down a switch while dragging on ecig.  You can control how much of a hit you get, but I still like the automatic one better.
There are different strengths of cartridges and e-liquid you can buy.  The ones I use have full (18mg), medium (12 mg), light (6 mg) and even zero nicotine cartridges for those that want to vape, but don't want the nicotine.
I would suggest you save all of you empty cartridges so they can be filled with e-liquid, should you decide to use it.

Buy the way, the cartridges come with a cap on each end, that you should leave on until you use it.  It's just a little rubber thing that keeps the nicotine from drying out.  I would suggest you leave the cap on the open end while it's on your electric cigarette while it's not in use.
You also will need to clean your batteries after a few weeks of use.  If your ecig is hard to get a drag, it needs cleaning.  It's very simple.  Just use a dry toothbrush to brush around the threads on the cartridge end of the battery.  Be sure to get a bristle in the little holes that let air flow.
I use a plastic zip lock bag to carry my extra battery and extra cartridges during the day.  It works great!
I think you will find that Quitting Smoking by using an Electronic Cigarette is the easiest way out there today!
Give it a try and drop me a line to share your success story.  Want to learn How I Quit Smoking?
Electric Cigarette